DEMON X DETROIT 2020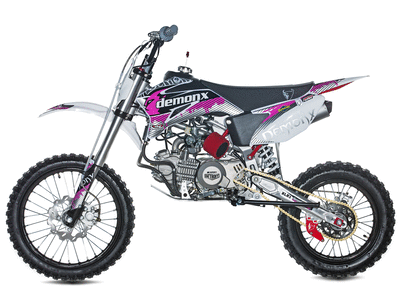 At WPB we like to keep ahead of the competition.
That's why you will find all the latest developments in 
pitbikes are incorporated to our range before anyone else.
Stomp have EXCLUSIVELY developed the new DETROIT 170cc
The Detroit 170cc is the next stage in pitbike engines,
the Detroit will be pushing the established Race Class Engines 
The Detroit will be exclusively fitted to WPB Stomp and Demon bikes. 
The DEMONX Detroit is factory Engineered and Dyno Tested and Race Tuned to include an Oval Big-Bore Exhaust system for a Power delivery to your DEMON Rear Wheel.
Our WPB Race Sponsored riders agree...
"if you want to push the limits and redefine the Open Class Race series then this is a Bike that will get you noticed, everyone now  must consider the DemonX 170 XLR2 Detroit TTR as the new Race Class"
The DEMONX 170 XLR2 Detroit 170 TTR now fitted in the WPB frame and is the only and exclusive frame that's been Race Tested & Dyno Proven to handle the awesome Power of the Detroit 170 Race Tuned Engine.
 Specifications 
 Engine 
Mikuni Race Carb with 2 stage race foam filter
External oil filter
High Capacity Race "Rad" style oil cooler
Heavy Duty standard KTM style kickstart
High Capacity Race Ignition coil
 Frame 
Exclusive Race Engineered Race Geometry Frames
New HiTor SuperSwing Alloy Swingarm System
Swingarms includes provision for 
High Torsional strength wheel spacers
and SuperDry Sealed Wheel bearings
High Impact Lightweight Sumpguard
New TTR Style Plastics
 Suspension 
Demon X High Rate Loading Rear shock
735mm  Forks
SuperSwing Frames/Swingarms to take 17/14 wheel upgrades
Replaceable Steel SuperShock Shock pivot bearings
 Wheels and Tyres 
14"rear 17" front Demon MX Tyres
SuperStrong and Light Steel Rims
SDG pattern SuperStrong Hubs
Recessed & Sealed SuperDry Long Life Wheel Bearings
Optional 12-14 Wheels
 Brakes  
Discs 210mm Front and 190mm Rear
Oversize Single Pot Front and Rear Disc brakes
Steel Braided Hose Lines
EBC pattern pads front and rear
Rear Brake Snake Cable
 DriveChain 
KMC 420 pitch Chain
41 tooth rear sprocket
15t front sprocket
Wrap around SuperSlide Swingarm Chain Sliders
New SuperGuard Rear Shock Mud Deflectors
 Bars & Controls 
Titanium Alloy Minibike Pro Taper style Bars
New Strengthened Solid Forged Alloy Levers 
Soft Grey SuperGrip Bar Grips
Foldback Gear Shifter
Heavy Duty Kickstart
Alloy Fuel Cap and Reinforced Poly Resin Tank
Traditional Rocker
 Answer No 1 - Roller Rockers 
You may ask why hasn't anybody just increased the capacity of 
a pitbike engine more than 160cc ? The answer is technical but with the help of
our WPB Race engineers we 
The Extra 10-15cc over a standard stock engine requires a major
engine head rethink, the valve springs have to be uprated a considerable
amount, this puts extra pressure on the cam and increases the drag on the engine
the effect is a diminishing return of power for the extra CC's added.
The Detroit 170 Cam followers have rollers fitted instead of metal pads, this greatly reduces friction and frees up huge chunks of Power.
Also the Detroit has an Aggressive cam profile, rapid valve opening requires steep cam profiles and that profile has to be followed exactly,without error.
The Roller Rockers of the Detroit together with the heavy weight valve springs
means that we are exclusively able to provide Pitbikes to customers with a factory
When you consider the aftermarket retrofit of converting
a 150cc or 160cc to a 170cc the costs are huge.
New Barrel, New Head, Gaskets Time and Labour 
Detroit 170 Customers will now be able to ride the biggest Engined Pitbikes 
No more expensive Retro Fit Head Conversions are Required.
 The Detroit 170 cc is Here and its putting that power down in the dirt,  
exactly where you want it, MORE POWER to get you those Race Wins. 
 Answer No 2 - Uprated Valve Springs 
As we mentioned earlier The Detroit 170 cc has an Aggressive cam
this cam profile needs to be followed accurately.
To do this the Valves springs have to be uprated 
considerably
.
Answer No 2 - Uprated Aggressive Camshaft