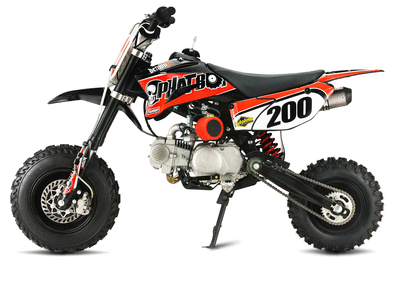 Demon Phatboi 140cc  
The New 2015 Phatboi designed as 
a revolutionary...
Two Wheeled DirtGlider
By Rhiannon Clark
I've recently purchased the Demon x 140 Phatboi and let me tell you a little about this beast! 
I've had way too many bikes than I care to admit but this one stands out from the rest! not only 
because of its unique look or the phat wheels but....because it handles amazing on any terrain! 
Luckily for me I live right on the coast

 
The beach is a 5 minute walk away and is right next to the track 
so I've road the beast on every terrain possible except from snow due to the weather obviously
but she did handle black ice and sludge very well. 
The beast wheels give remarkable handling on everything but gives the power and speed of other slim 
standard wheeled 140 pitbikes, definitely a highly recommended purchase, you stand out from 
the crowd with this awesome bike but still have the power to leave them standing tasting dust!
 Demon Phatboi 140cc DirtGlider 
So With a market crammed full of Chinese copies, pretty much all following the same trends, Demon X have stepped up their game and come up with something that's a little 'different'. 
The 'Phat Boi' as it's names suggests is extremely PHAT. Utilising massive balloon tyres from the ATV market, Demon X have produced what is quite possibly the raddest looking pit/sand bike ever designed. Powered by a slightly breathed-on YX140 motor, the Phat Boi will mulch its way through any terrain you can throw in its path. 
 When we tested the Phat Boi back in January 2014, we were simply amazed at how well balanced this bike is and how well it can smash through rough terrain, ruts, sand & mud, it literally is a DirtGlider. Believe it or not is also jumps clean and balanced, as well if not better than any 14/12 pitbike out there.
So if you are looking to be a little different & be the envy of all your mates on their comparably boring looking pit bikes, look no further than this. Because Demon X is a direct brand, it also means that the Phat Boi is exceptional value for money. To top that off, Demon have manufactured the Phat Boi in the same factory that produces PITSTER PRO, so you can rest assured, not only is it, PHAT, MEAN and FAST, it's also extremely well put together.
 SPECIFICATION 
14 HP, YX 140 engine, Molkt Carb, all up N-1234, 4-speed manual gearbox, SP USD Forks with super wide CNC machined billet triple clamps, nitrogen piggy back adjustable rear shock, custom pressed steel wheels with ATV tyres. Custom super wide swingarm with 'out-rigger' double chain drive. TTR Style plastics with 3M custom PHAT BOI Graphics. Cromo frame, chrome big bore race exhaust with oval aluminium muffler. Strong MX style kick-start, 7075 alu fat bars, new steel box section pressed sump guard, cast steel spiked heavy duty foot-pegs, heavy duty rubber shock shield (keeps mud/sand off), forged alu control levers. Hi quality ignition & coil pack.