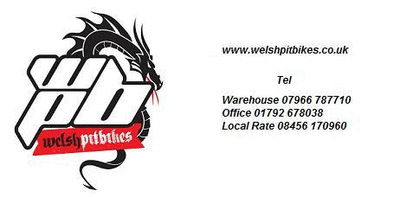 New 2015 Bikes are here now We have an Unbeatable range of 
Pit Bikes including Stomps WPB and Demon X with delivery to the UK 
and the whole of the European Mainland and beyond.
We also have a complete range of  2105 cycles in stock.
 Unbeatable Service 
Our Dedicated Mobile HOTLINE Answering Team 
We will aim to take your call Quickly 
SALES HOTLINE 07966 787710 
We are Open 7 days a week
9-6pm Daily Including Sunday
Our Emails are answered Promptly 
usually within an hour during office hours
Mobile Text tracking of Deliveries
All Major Credit and Debit Cards Taken
We also offer Cash Sales at your Local Branch HSBC
 Unbeatable AfterCare 
Have you ever worried about
parts and After Sales backup
for your Pit Bike?
Worry not !
Take a look at our Comprehensive
We have the Best Parts Backup for our products 
in the UK, we aim to be Unbeatable! 
Shipping to any European and Worldwide destination is currently available, 
please call to discuss.
 Unbeatable Value 
Our Prices are The Cheapest Available in the UK. Our Websites are designed to 
give you the Best Possible Priced Products ....Grab A Bargain!
If We are not already the BEST PRICE
that you can find then Just Give Us a Call
and we soon will be!
 Unbeatable Stocks 
A 5000sq ft Warehouse and Still Growing ensures we have 
the BEST Possible Stock Levels in the UK
Quality Aftermarket WPB & STOMP branded parts
our Exclusive new Race Orientated Tuning Brand 
"Guaranteed to get you more Race WINS" 
Hustle PitBike Race Products also Available, just call.
With the WPBRacing Engineers and Project Managers 
at Hustle and 2WIN Systems...."You're always winning"